Introduction
The Olympus TG-4 is part of the Tough range of cameras which offer full protection against water, sand, cold and accidental dropping. Other desirable features include GPS and wifi built-in, a bright f/2 25-100mm lens, 16 megapixel backlit CMOS sensor, aperture-priority shooting mode, Raw file support and 1080p Full HD movies. The Olympus TG-4 is available in red or black and costs around £349 / $379.
Ease of Use
Admittedly a large part of the appeal is the Olympus TG-4's supposed ability to prevent ingress of anything nasty. The specifications here are water proofing to 15 metres without additional casing, freeze proofing to minus 10°C, shock proofing against drops of 2.1 metres in height plus claimed crush proofing, able to withstand 100kg in weight. Additionally there is dust proofing too.
In practical terms both battery/card and output port compartments are protected by double lock doors – said battery being charged in-camera; there's no standalone mains charger provided, just a USB cable, mains lead and AC adapter that sits in between to hook the battery up to the mains. The lens – here sporting a usefully bright f/2 maximum aperture – with an internal zoom mechanism so that at no point does the lens actually protrude from the body, is also well protected. The featured zoom is, incidentally, the equivalent of 25-100mm on a 35mm film camera, with macro shots up to 1cm from the subject achievable. Built in Wi-Fi and GPS not only allows for wireless image sharing but also for the TG-4 to be controlled via a smartphone if you've downloaded the relevant Olympus OI Share app. On paper at least the TG-4 would seem to offer pretty much everything we'd expect it to at this point in time.
With no eye level viewfinder, images are composed via a 3-inch
Olympus' toughened series of shock proof/freeze proof/water proof digital compacts was memorably launched a few years back by a TV ad in which, after giving it a kick about, a young lad of 4 or 5 shoved a muddied camera under an outside tap to give it a rinse; a simple yet effective pitch that any customer could comprehend. These days, with the rise in market popularity of the 'action camera', you're more likely to see the latest 'Toughs' glamorously associated with alpine skiers or scuba divers. The 16 megapixel, Raw file capturing Olympus TG-4 looks the part; it's more Monaco than Margate, whether in its bright red livery or more subtle black with red detailing we had in to play with. We talk about the styling because that's how this model is largely being pitched: as a lifestyle accessory as much as a photographic tool. Official dimensions are 65.9×31.2×111.5mm, with the camera weighing 247g including battery and removable SD media card.
h, 460K dot LCD at the rear which is sufficiently clear for a camera of its ilk. This also features a protective panel, perhaps just one of the reasons why touch screen control isn't offered on this model (though tap control is – more on which later). Max image resolution is 16 effective megapixels from a 16.8MP backlit, standard sized 1/2.3-inch CMOS chip, handheld shooting supported by sensor shift image stabilisation, whilst, surprisingly, Raw shooting is offered alongside JPEG. Less surprisingly there is also Full HD 1080p video, saved in easy-to-access and display Motion JPEG format. Exposure compensation is modest at +/- 2EV, as is light sensitivity, here running from ISO100 to ISO6400, with detail noticeably falling off and smudging at ISO3200 and above.
Featuring on the four way control pad near the base of the camera back, for tabbing through menu settings, are further settings for adjusting exposure compensation (here the modest +/- 2EV), selecting flash setting and also self timer/burst shooting options. As well as two or 12 seconds for the self-timer, we also get a custom setting, plus there are sequential 'High 1' and 'High 2' burst shooting options.
Whilst the right hand side of the camera features a chunky lug for attaching an equally chunky strap, the opposite panel is where we find the camera's output ports located- mini DMI and USB – again hidden beneath a double locking door to prevent ingress of undesirable elements. The base of the Olympus TG-4 meanwhile affords us a centrally located screw thread for attaching the camera to a tripod, adjacent to which is the door protecting the joint battery and SD card compartment, which again offers a double locking mechanism. Responsive as a point and shoot camera, this also feels trustworthy as a toughened model. We stuck the TG-4 is freezing water with the aid of ice cubes for half an hour with the back screen active, and, on plucking it out again and drying it off, the camera was still functioning as new. Whereas on most claimed waterproof compacts we often find a few tiny beads of water or moisture have penetrated the seals, happily that wasn't the case here – though we were only using a bucket of water, not the ocean itself.
This being an Olympus camera we also get a smattering of Art Filter digital effects to try out – seven in all, including our favourite of 'dramatic tone' alongside pop art, 'sparkle' and fish eye settings – which helps to further differentiate this from your run-of-the-mill snapper. One of our only initial gripes upon picking it up and playing with it is the small controls at the camera's rear. That's typical for Olympus – even its top-end OM-D seem to squeeze controls in – but more fiddly than normal to use if you've wet hands. That's where the tap control facility comes in handy (forgive the pun!), which is probably at its most effective when working underwater, or if wearing large protective ski gloves gloves.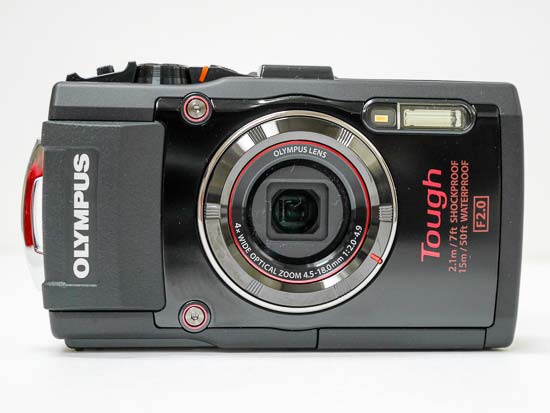 Front of the Olympus TG-4
The Olympus TG-4 retails at a manufacturer's suggested £349 SRP in the UK. While one may initially baulk that it feels a little pricey for what is at its core is a 'mere' point and shoot – we did find street prices already shaving sizeable chunks off that at the time of writing. Hoping to broaden its appeal further, there are a host of optional camera specific accessories offered by Olympus for the TG-4. These include underwater housing to enable extended use up to 45 metres, a macro light, hard case with 'carabiner' hook plus fisheye or tele-converters to widen or extend the existing lens reach.
Examining the front of the Olympus TG-4 – complete with a couple of screw heads to signify industrial levels of strength – reveals that the camera's reinforced lens is further protected by virtue of it being encircled by a raised metal surround or lens ring; this can be unscrewed and removed to allow for supplementary attachments. Lens aperture runs from f/2 at the wideangle end to f/4.9 at the telephoto end (maximum zoom), with closest focusing distance being a very respectable 1cm.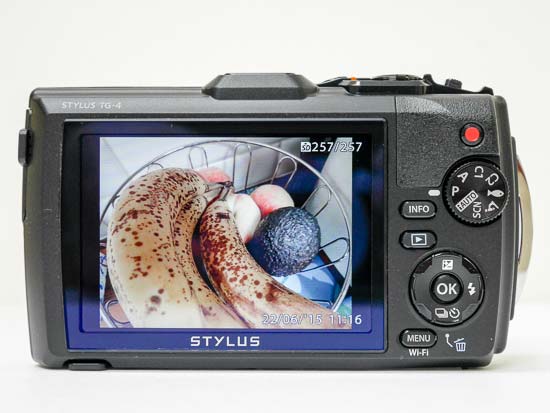 Rear of the Olympus TG-4
Top right of the lens is recognizably an integral flash and combined AF assist/self timer/LED lamp window, the flash being controlled via a dedicated setting on the standard four-way control pad at the rear of the TG-4. Flash settings wise, we get the standard auto and forced flash/fill-in option, along with a red eye setting and one that activates the fairly blinding LED lamp (in conjunction with a holding down of the shutter release button), for when you need that extra 'oomph' in the illumination department – perhaps for shooting a short video clip.
From the front, the TG-4 looks seriously contemporary and muscular. It's all hard edges and is almost industrial in its design. Despite the bog standard image sensor, there is no mistaking that this is a viable alternative than your smartphone or iPad for taking snaps at the beach or on the ski slopes. In other words, and this is important, it actually has a reason to exist independently.
The camera arrives boxed with a very basic manual which tells us how to insert the battery and take care of and clean the camera, plus separate set up CD with the full manual on it – which isn't much use for those of us with a latest generation iMac, omitting any optical drive. As noted earlier we don't get a standalone charger either, which is fairly typical with lower priced cameras these days – so, unless you invest in a spare, the camera is tied up when you want to replenish a spent battery. Power lasts for around 300 shots from a full charge.
One operational quirk we immediately found with the Olympus TG-4, which is in fairness true of all units that feature an internally stacked zoom mechanism, was that it is all too easy for a fingertip to stray into the corner of your shot without you noticing. It's quite easy for this to happen as, unusually here, the lens isn't extending beyond the reach of your grip (or indeed compact, marginally roughened camera grip), as it is with a regular zoom. Yes it's easy enough to delete the shot – again via the four-way control dial at the rear – but you have to first realize there's a problem before the subject or the moment has moved on.
The top of the latest Stylus Tough presents another industrial looking collection of controls, with the large, raised shutter release being the most prominent. This doesn't feature a roughened surface to aid wet fingers, but the smaller on/off power button on a raised slope to its side thankfully does. Mirroring this at the other side of the shutter release button is a ridged and raised zoom lever, which we found a little fiddly to operate even in the dry. A more prominent lever still, encircling the shutter release button perhaps, would have been a more elegant/less awkward solution in our humble opinion.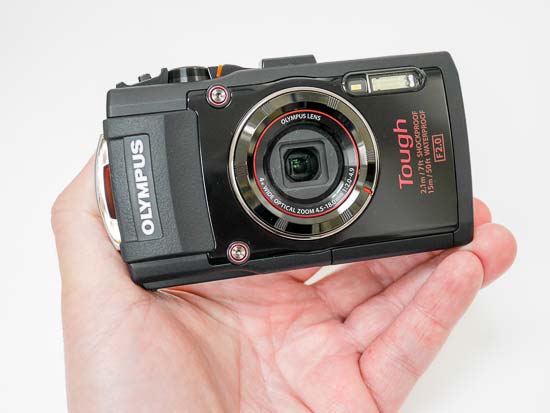 The Olympus TG-4 In-hand
Next up is scene mode and here there is the usual smattering of pre-optimised choices, selectable from the toolbar that runs down the right side of the LCD screen no matter which shooting mode you are in. Included here are several portrait and landscape options, for both day and night time shooting, along with beach and snow, sunsets and a panoramic option. Also found here is an interesting interval shooting mode, which allows the creation of time-lapse movies and the creation of a live composite image in camera. In all there are 19 pre-loaded scene options to select from. Along with the above we also get a iAuto (intelligent Auto) setting on the dial for when we do just want to point and shoot and let the camera decide what how to best handle the conditions or subject at the time; like any digital camera these days it's consistently accurate enough for most people to not want to deviate from this setting.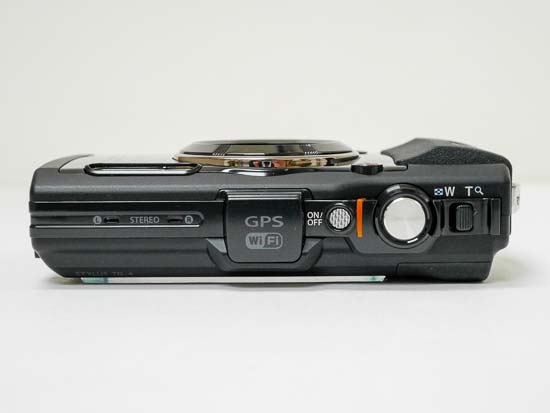 Top of the Olympus TG-4
The smaller lozenge-shaped buttons on the back plate to the right of the LCD, of which there are three, not counting the four-way control pad with its central OK button, likewise fall under the thumb of the right hand when gripping the camera. From the top these buttons are marked 'info', playback and menu, the latter of which also doubles up as the Wi-Fi activation button. Pressing info will not only bring up a nine square compositional grid for practicing of the rule of thirds (complete with live histogram), but also, with a further press, displays and electronic compass, which is cool. A press of 'menu' meanwhile brings up two folders worth of brief stills camera settings, along with a separate folder/screen's worth of video options plus three screen's worth of set up options, the mots interesting of which is the option to activate 'tap control' – whereby, for example, the user the tab through the menu toolbar merely by tapping the right hand side of the camera, which is potentially useful if you're wearing chunky skiing gloves.
Still, squeeze the on/off button and the Olympus TG-4 is powered up ready for action in just over a second, which is as quick as we could hope for, the rear LCD blinking into life and the lens audibly adjusting. Squeeze the shutter release half way and the camera almost instantly locks on a target. Press the shutter release button down fully and image capture is also commendably swift, the screen freezing for barely two seconds – even when shooting JPEG and Raw files simultaneously – as we were doing for our test period. For a point and shoot camera, you couldn't really hope for a better response – and of course if you are going to be using the TG-4 for action photography or even those fleeting moments, then every second does indeed count.
Staying with the top of the camera for a moment and it's equally noticeable the built-in GPS/Wi-Fi module sits dead centre of proceedings, whilst slots housing the on-board stereo microphone sit to its left (if viewing the camera from the back).
Moving to the backplate, the function of the controls is again obvious. Here we get a dedicated video record button top right, located where it ergonomically falls under the thumb, activated with a direct press of the thumbnail, with a dime sized shooting mode wheel located sitting just below, ready for a spin. On said dial we get a Program and Aperture Priority mode, but not a dedicated shutter priority or manual option – although there are two available custom settings adjacent for quick and easy access to preferred choices. Seeing as this camera is made for splashing about with, there is also a dedicated underwater setting that even includes a HDR option among its menu choices. Sitting next to this is the microscopic mode, which as we've indicated previously allowed us to rest our lens against a subject and still be able to grab a clear shot. It will even pick up the grain in the page of a book, which is pretty amazing.
While reasonably impressed with the Olympus TG-4's construction and feature set, then, how do the pictures measure up? Is it worth paying a premium for this snapshot camera's versatility?