Introduction
The Canon PowerShot G9 X is the latest of Canon's premium compact cameras. Announced at the same time as the G5 X, it features the same one-inch type, 20.2 million pixel CMOS sensor as last year's G7 X. Not a replacement for the G7 X, rather the G9 X sits just below it in the PowerShot line-up and could arguably be seen more as a successor to the PowerShot S120, which was similarly sized and shaped, but featured a much smaller 1/1.7 inch sensor. Other features of the G7 X include a 3-inch touchscreen, inbuilt Wi-Fi and NFC, full HD video recording, a Digic 6 processor and a 3x optical zoom, with a maximum aperture of f/2.0 at its widest point. The Canon Powershot G9 X is available in black or silver priced at £399.99 / €569.99 / $529.99.
Ease of Use
The Canon PowerShot G9 X is a truly pocketable premium compact camera, and unless you've got ridiculously tight pockets, it should feel at home in most jeans or jacket pockets.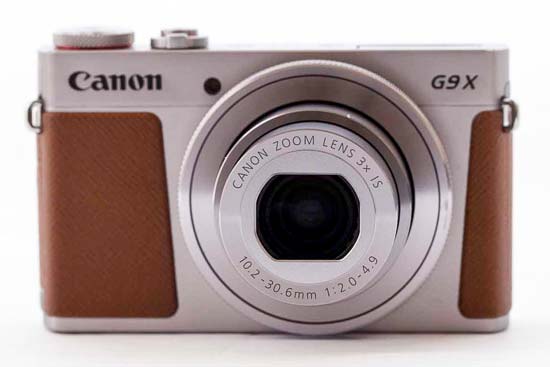 Front of the Canon PowerShot G9 X
The zoom, at 3x, is quite a modest zoom, but the zoom switch moves the lens in and out smoothly and fluidly. If you have digital zoom enabled, it will pause ever so slightly before going into digital zoom territory, which is good for allowing you to keep an eye on only using the optical zoom if you wish.
Finally, the Canon PowerShot G9 X's inbuilt flash can be found on the top plate. To raise it, there's a small switch found just underneath it. You push it back into the housing of the camera when you don't want to use it anymore.
You can buy the G9 X either in black or silver. The silver version is part textured with a tan coating (the black version has a black texture), which gives it a retro and stylish look. Although there's no raised grip, the texture helps give you purchase, while there's an ever so slightly raised thumb rest on the back of the camera too.
On the top of the Canon PowerShot G9 X, there's a power on/off button, a playback button, the shutter release, which is surrounded by a zoom switch, and a mode dial. The mode dial contains 10 different exposure mode options, including manual, aperture priority (Av), shutter priority (Tv) and Program, as well as Auto, Hybrid Auto, Scene, movie, Creative Shot, and a space marked as "C" which can be used for saving a group of custom settings – useful if you often find yourself shooting a particular type of scene.
Moving to the back of the camera, most of it is taken up by the G9 X's three-inch touchscreen. However, there are four useful buttons just to the right hand side of the screen. There's a dedicated movie record button, a quick menu button, a main menu button and an info button. The info button changes the display of the back of the camera.
The Q set button also has a corresponding touchscreen button. Pressing the button, or tapping the icon on screen, will allow you to make changes to a group of commonly used settings, such as image quality, white balance, focusing type and so on. With no directional keys on the back of the camera, you'll need to use the touchscreen to make selections – if you're not a fan of touchscreens, you'll quickly get frustrated with the GX9.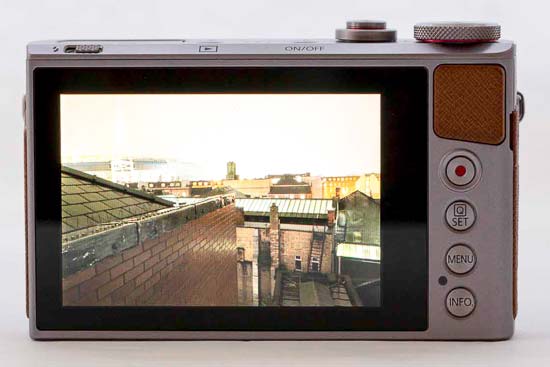 Rear of the Canon PowerShot G9 X
The main menu button is used to access the more extensive menu, which again is navigated through using the touchscreen – it's a little more frustrating using the touchscreen for this action as menu items require a double press – but again it's something you get used to.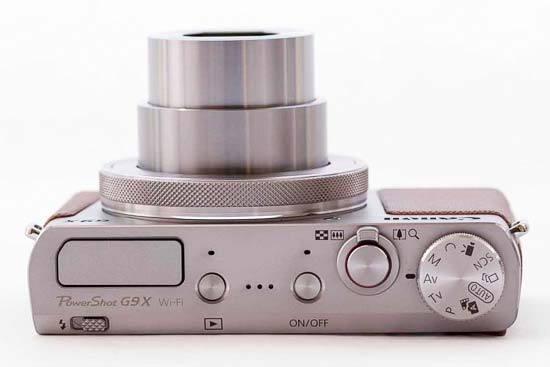 Top of the Canon PowerShot G9 X
Moving back to the control wheel around the front of the lens, it can be used for a variety of functions. When you're in aperture priority, by default it will control aperture, but there's a (touchscreen) button you can press to swap it from the default to exposure compensation or ISO, which can come in handy if you prefer to change those more often than aperture. In manual mode, you can swap between aperture, shutter speed and ISO.
An interesting feature of the G9 X – and most Canon compact cameras – is Hybrid Auto. This takes a short (2 second) clip of video just before the shutter release is pressed and amalgamates all of the clips together at the end of a calendar day. The resulting video can be played back as a type of slideshow with the videos and still images. For most every day shooting scenarios it's not that useful, but for special events, such as weddings, parties or perhaps holidays it's a fun feature. It would be nice if you could have more control over it though – for example, if you could choose which photos make the final video, or if you could use it when shooting in other exposure modes.
Other common settings such as ISO, exposure compensation and aperture can also be changed via the touchscreen, with "buttons" along the bottom of the screen which can be tapped – you can then use a swiping motion along the screen to alter the setting, or, if you prefer, you can use the rotating control dial which is found around the lens (once a setting, i.e. exposure compensation is selected).
It takes a little while to get used to navigating everything with the Canon PowerShot G9 X's touchscreen – perhaps especially because there are a few physical buttons on the side – however, once you do, it starts to become second nature. You can also set the focus point via the touchscreen – simply tap the area you want to use – since there are no directional keys, there's no other way to do this. It would be nice if you could customise the Quick menu to include options that you use frequently, and to remove the options you don't use all that often.
Creative photographers may want to use the Creative Shot mode. This takes an image and applies five different filters and crops. You don't get to choose exactly which filters or crops are used, but you can select from "Auto", "Retro", "Monochrome" and so on. Again it's a fun feature which can lead to some pleasing results, and with a clean JPEG too, you're not stuck with an unsatisfactory crop or filter if you don't like what the camera produces.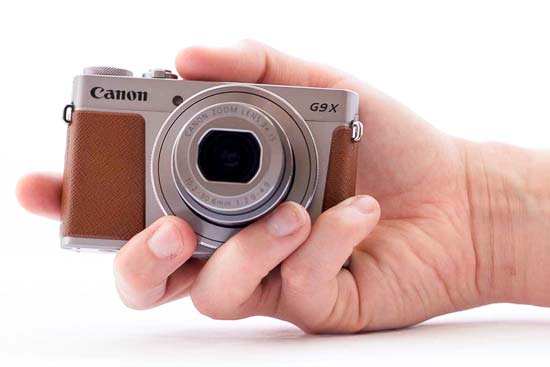 The Canon PowerShot G9 X in-hand
There's a dedicated button for activating the camera's Wi-Fi on the side of the Canon PowerShot G9 X. Once you've pressed this, the name of the network you need to connect to from your smartphone or tablet will be displayed. Once connected, launch Canon's free Camera Window app and you can use your phone to take pictures, or download images already on the camera. There's a good degree of control you can take over what you can shoot, including aperture, zoom length, ISO, flash function, autofocus point and so on, which is nice to see.
It's worth investing in a high speed Class 10 SD card to use with the G9 X as otherwise shot to shot times can be frustratingly slow (when using a Class 4 card for example). With a class 10, there's still a couple of seconds to wait before you can take another shot, but it shouldn't be a problem for most every day shooting scenarios.
Focusing speeds are generally quick. The Canon PowerShot G9 X will hunt a little in lower light scenarios, but it's rare for a false positive to be presented. You can also get impressively close when macro focusing is activated for frame filling shots.