Introduction
The Ricoh Theta m15 is a digital camera with a difference.iwc replica watches Featuring a fisheye lens on either side – each recording 180 degrees of horizontal and vertical view – they combine to record a complete 360×360-degree wraparound spherical image of the world around you. This is achieved with just one press of the shutter release button: no panning required. You can't capture any other kind of image with the Theta m15, however, although it can pull the same spherical panorama trick with video, recording clips up to five minutes in length.
The Ricoh Theta m15 measures an easily-pocketable 44mm x 130 mm x 22.9mm (or 17.9mm thick if you exclude the lens bulges) and weighs just 95g. That makes it noticeably lighter and less bulky than a basic compact camera, although the Theta is around 30mm longer than the width of a typical camera, so it could stick out the top of a shallow pocket. Its lightness is in part due to those colourful plastic panels, however these do flex slightly when pushed and consequently the Theta doesn't feel like an especially premium product.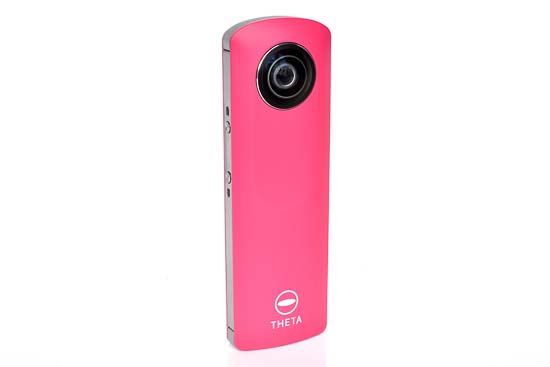 Front of the Ricoh Theta m15
Both sides of the Ricoh Theta m15 are almost identical, with the only difference being the shutter release button and LED status light placed on one side only. Both sides house a bulging fish-eye lens, each capturing a 180-degree horizontal and vertical field of view which are then combined to form a completely spherical image.
With only three buttons and no LCD monitor, the Theta m15 is incredibly easy to use. You get 4GB of on-board memory, a built-in battery capable of 200 shots-per-charge and an accompanying smartphone app is also available. This lets you can take remote control of the Theta, view its spherical panoramas on your smart device and adjust a few shooting settings. The Ricoh Theta m15 is available for around £200/$279 and comes in blue, yellow, pink and white colour options.
These days a new camera is usually considered interesting if it can record 4K video or sports a touch-sensitive screen, but the Ricoh Theta m15 puts these so-called innovations to shame with its ability capture spherical panoramas with just one click. It looks the part, too, although is it just me or is the design strangely reminiscent of a Men in Black Neuralyzer/memory eraser, albeit if Fisher Price came up with the colour scheme?
On the top edge you'll find some small holes through which the microphone records audio, and on one of the side edges are the power and Wi-Fi activation buttons. Strangely, given that the Theta can record video, it doesn't have a dedicated video record button. Instead, you have to press and hold the Wi-Fi button when the Theta is turned off and then turn it on whilst still holding the Wi-Fi button, thereby activating the video mode.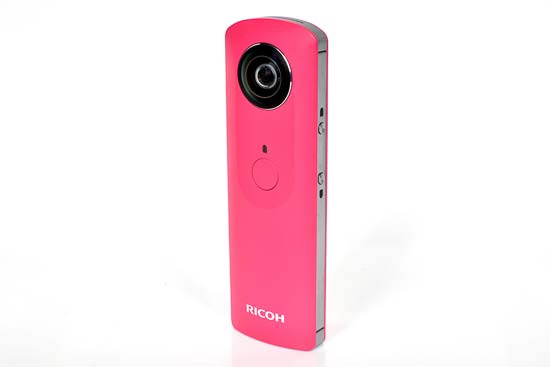 Rear of the Ricoh Theta m15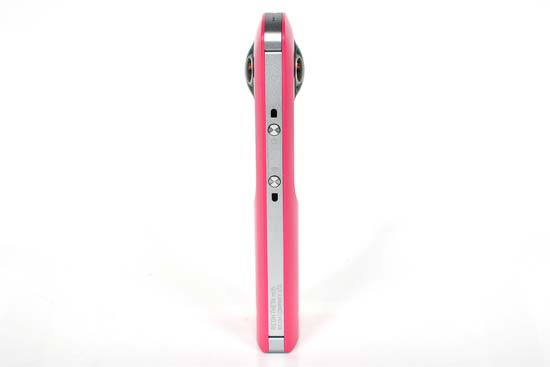 Side of the Ricoh Theta m15
The app also gives you a shutter priority mode which could be useful for creating a blurred cityscape scene or photographing fireworks, and there's also an ISO priority setting where you can manually select sensitivities between ISO 100 and 1600. +/- 2EV of exposure compensation available, too, along with options to adjust white balance. Finally, the app includes a nifty time-lapse function that lets you fire up to 200 shots in intervals ranging between 5 seconds and 10 minutes.
And that's almost it. There's no flash, focussing options, image quality or resolution settings, optical or digital zoom, effects filters or scene modes. The Theta could well be the easiest ever camera to use. You don't even need to worry about composition as it captures everything around you – just fire and forget.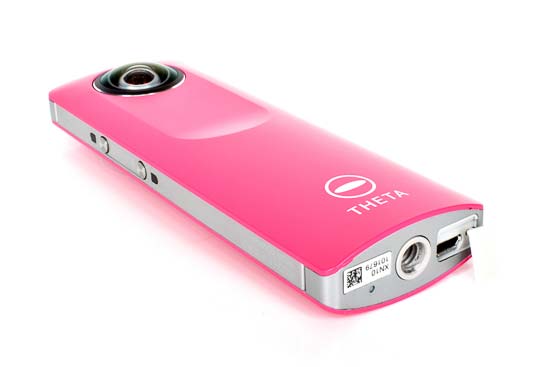 The Ricoh Theta m15
The only other feature on offer is HD 1080p video recording. Just as with still images, this capturers a complete 360×360-degree field of view that you can scroll around during playback, and you also have little choice but to appear in the recording if you shot it handheld. It's a pity that there's no video record button so you've instead got to faff about pressing and holding multiple buttons to enter a video mode, but this isn't the biggest disappointment. Full HD video may be high quality when it covers a typical field of view, but stretch 1920×1080 pixels to wrap all the way around you and the video quality certainly isn't high definition any more. At any one viewpoint you'll be seeing a resolution of roughly QVGA 320×240 pixels, which is very poor quality. Combine this with the slightly jerky 15fps frame rate and the appeal of wraparound video soon wears off.
At the base of the Ricoh Theta m15 is a standard ¼-inch tripod socket, as well as a USB port that's used to charge the Theta's non-user-accessible battery that's rated for 200 shots-per-charge. The USB connection also lets you transfer photos from the Theta's internal 4GB memory. This isn't expandable as there's no memory card slot, and neither is there any form of screen or monitor on which to view your captured images. This isn't quite as mad as it sounds, as Ricoh has sussed out that most Theta users are likely to be carrying it alongside a smartphone. Therefore, the Theta's Wi-Fi connectivity is accompanied by an iOS and Android app that lets you use your smart device to view the Theta's images in all their wraparound glory, as well as controlling the camera remotely. Each shot takes around 5-10 seconds to be viewable on your smart device, where it can then also be saved or shared.
But possibly the most useful aspect of having remote control is that it helps alleviate one of the Ricoh Theta m15's biggest drawbacks. It's all very well being able to capture a complete 360×360-degree wraparound image, but this also means you've got nowhere to hide. Every single shot will have you in it, whether you like it or not. It's possible to minimise the amount you feature in each image by holding the Theta above your head, but be warned: wandering round town holding an oddly-shaped and in our case, hot pink, gadget on your head – which also emits a very conspicuous bleep when the shutter button is pressed – will attract attention, most probably from men in white coats. What's more, those fisheye lenses will also capture your hand as you hold the Theta. Consequently, attaching it to a tripod and taking control with the app gives you a fighting chance of evading the Theta's all-seeing eyes when it captures a shot.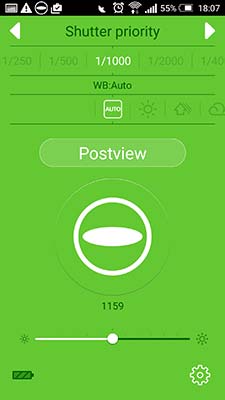 The Ricoh Theta m15 app