Introduction
The Ricoh WG-M1 is an action camera that's capable of recording full HD video (1280 x 960 pixels), which are captured at a 137-degree ultra-wide angle of view. Although primarily designed to capture video, it's also possible to record stills. The camera has an f/2.8 lens and can capture three different angles of views with 14 million pixels. As it is designed to be used in a variety of "action" type of environments, it has several rugged credentials. It's waterproof down to 10 metres, shockproof from 2 metres and freeze proof down to -10 degrees celcius. The Ricoh WG-M1 costs around £159.99 / $199.95.
Front of the Ricoh WG-M1
There are just five buttons on the Ricoh WG-M1. On the left hand side, you have the on/off button, which you need to hold down for 2-3 seconds for the camera to switch on or off. When the camera is on standby, you can press this button lightly just once to switch the screen back on to use the camera again. Just next to this button is a larger record button which can either be used for taking stills or recording movies. Not only is the button larger, but it's also textured and raised from the body, making it easy for you to tell which button is which when you can't see the camera.
Ease of Use
If you look down at the Ricoh WG-M1 from the top – where the screen is – you will also see that there are markings which indicate where each of the buttons is, and what they do, which can be useful for navigating through them when you can't move the camera, or yourself, to a better viewing angle.
On the right hand side of the camera are the buttons you need for more advanced control of the camera, although there's not a huge amount of settings you can change.
The middle button of the three here is a circular "OK" button. Pressing this allows you to switch between stills recording and video recording. Either side of this central button is a playback button, and a menu button. The menu isn't particularly extensive, but it takes some getting used to when navigating it since you only have three buttons to use it.
As the Ricoh WG-M1 is an action camera, it doesn't have the same kind of design as a standard compact camera. Rather, it is a sort of square design, with the colour LCD on the top of the camera.
This makes for quite an unusual way to compose an image, as effectively you're looking down on what you're composing. It's something you get used to with time, but, thanks to the ultra wide angle view, it's more designed to be capture the whole scene in front of it without worrying too much about precise composition.
As the Ricoh WG-M1 is designed to be used when you simply want to record whatever exciting action is happening, there aren't too many buttons and dials which you need to get to grips with.
On the bottom of the camera is a thread for attaching the camera to a tripod or to the mount which you can use to stick the camera to handlebars etc. As the supplied mount is flat, it's not quite as easy to stick it to a curved helmet though, which bike users may want to consider.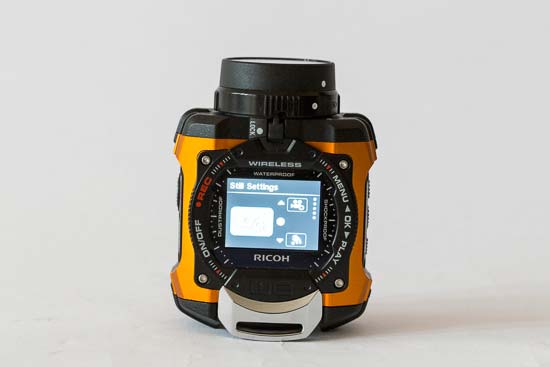 Top of the Ricoh WG-M1
You can change the angle of view in the main menu from wide, mid, narrow and when in video record mode, to water for a flatter view. When you're in video recording, other options you can change include the size of the movie being recorded, white balance, the ability to shoot a time lapse movie, applying wind cut filter for sound, and activating loop recording.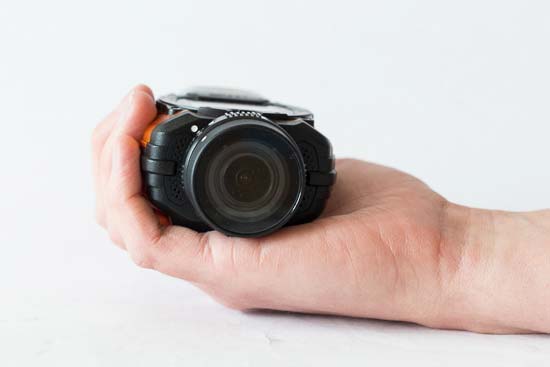 The Ricoh WG-M1 In-hand
To change the battery and/or memory card, you need to open a door which has a double lock mechanism to stop water from entering and damaging the camera. As the first lock is quite stiff, it's extremely unlikely you'd be able to accidentally knock it open and therefore open the door by accident – handy when you're using the camera in extreme conditions.
There's a Ricoh WG-M1 wireless app which you can download for iOS or Android which allows you to remotely control the camera. You can control a few things, such as the field of view, white balance and of course firing off the shutter release. Although there's not a huge amount you can control, there's not a huge amount which is controllable via the camera anyway, so it's not surprising. It's useful to be able to control the camera remotely if you're attaching it to a drone, kite, or something else which means you can't alter settings or press the record button yourself.
In order to save power, the screen will turn off after 30 seconds, and that includes if you're recording a video, and you'll need to press the On/Off button down lightly to reactivate the screen. This can be a little annoying if you're trying to keep an eye on what you're filming, and there seems to be no way to stop it from doing this from within the menu. On the plus side, this approach is fine if you're recording something for a long period of time and aren't intending to look at the screen. A red light near the on/off button will flash while a video is recording to alert you to the fact that it's still going.
Going back to the menu, there are a few things you can alter in Stills mode. You can change the size of the image created (the largest being 14 million pixels, the lowest being 5 million pixels), you can activate burst shot if you want to shoot lots of images in one go, again you can change the field of view and white balance, too. Aside from that, it's not possible to change other settings, such as exposure compensation, aperture and the like.
You can also view images in playback and download them to your smartphone which is useful for uploading images to social networking sites and/or email quickly.
Operational speeds are pretty quick, with shot-to-shot times being good enough to allow you to shoot quite a few shots in succession.