Introduction
The 9th version from ACDSee has landed and is also now available in Ultimate form. Boasting added features from the Pro version, it also comes with a higher price tag, but do those extra features warrant the additional outlay? In this full review, that's exactly what we aim to find out.
Introduction
Over a month the Ultimate package works out at $8.25p/m (£5.38) which is less than Adobe Photoshop CC which is around $13p/m (approx £8.50). Of course the big question is what you get for the money? We also need to investigate whether the features are worth upgrading from Pro to Ultimate and what ACDSee can offer versus a powerhouse such as Adobe.
There are three different ways to get your hands on the new editing suite from ACDSee. Those of you who are already invested in the company are eligible to upgrade and that will cost you around $60USD ( approx £39) for Ultimate compared to $50 (approx £32.50) for Pro. You can buy Ultimate for $149.99 (approx £97.80), while Pro is $99.99 (approx £65) or you can take out the Ultimate Plan at $99 per year compared to $79 (approx £51.50) per year for Pro.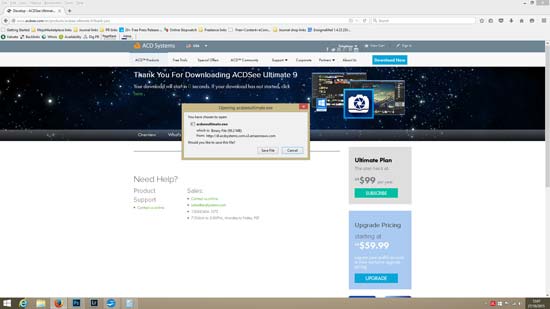 Download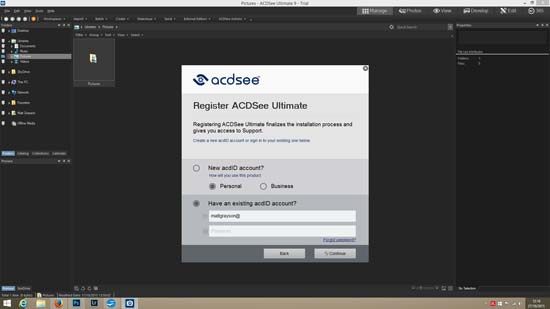 Register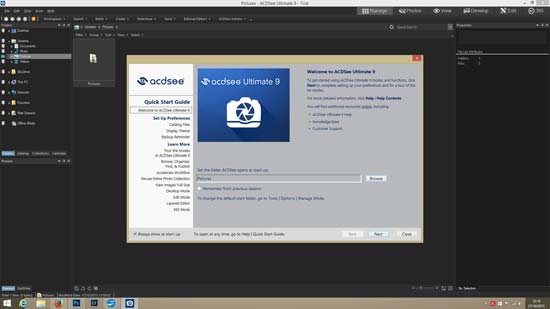 Welcome
The program is now split into five separate sections with the additional 365 cloud system for uploading images you've edited or simply wish to offload from your computer. The newest section is called Photos and is an "aerial view of your work in date order". It can be viewed yearly, monthly or daily – which is toggled via the radio buttons in the bottom right corner.  Manage is the first screen that opens up when the program launches. It's created to allow you to tag, sort and file your images.  You can navigate your way through the folders using the navigation map on the left of the screen.
Initial download from the ACDSee website took us around 2 seconds to get the 99.2Mb file on broadband running at approx 16Mbps. From clicking the folder to the program being installed onto the computer took us around a minute, not including reading the terms and conditions which you must always do.
Metadata and IPTC information can be updated on the right. Many people complain that this stage is long winded and tedious. While they have a point, inputting the information at the start can shed a lot of time off your future work. After choosing an image either via Manage or by double-clicking in the Photos screen, the View section  allows you to see your selected image without any distractions. You can zoom in using the various magnify options in the bottom right corner. ACDSee Ultimate 9 offers dual monitor viewing. Go to View >  Second Monitor and choose from either Image or File List. Once satisfied that your image is the right one, you can click on Develop and go through to some basic editing.
The program installed a window launch icon, which is good and also a HTML icon which opens a page to let you know everything that's new in the program. When launching for the first time (and every subsequent time after that if you don't tick the little radio button).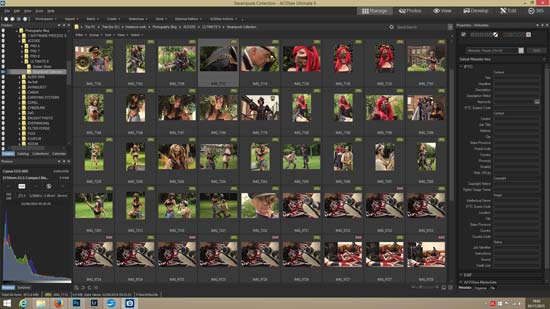 Manage
Any folders or files that can be read will be displayed in the centre screen. Below the map, ACDSee have included a small EXIF data window that shows the camera, lens and all the settings such as aperture setting, shutter speed, ISO and focal length of the lens at the time you shot. There's also a histogram to help you with the exposure details and this is split down into RGB.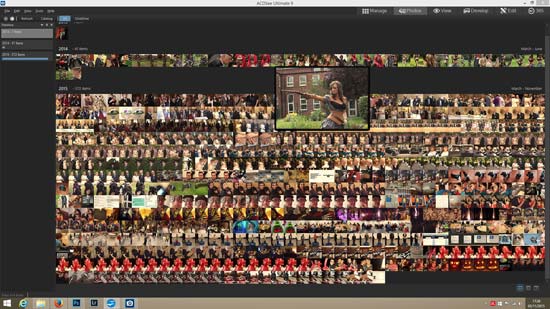 Photos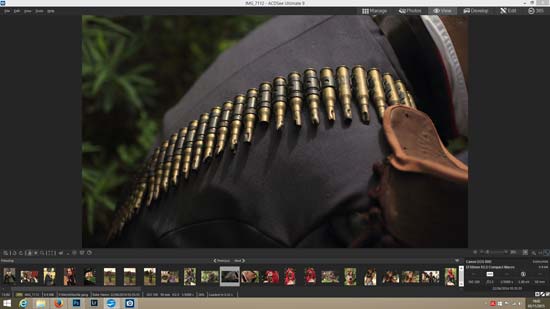 View